The Great Harvey Milk once said,
Gay brothers and sisters… You must come out. Come out… to your parents… I know that it is hard and will hurt them but think about how they will hurt you in the voting booth! Come out to your relatives… come out to your friends… if indeed they are your friends. Come out to your neighbors… to your fellow workers… to the people who work where you eat and shop… come out only to the people you know, and who know you. Not to anyone else. But once and for all, break down the myths, destroy the lies and distortions. For your sake. For their sake.
In honor of celebrating National Coming Out Day, which is Thursday October 11th, here's a list of all the local and Ohio National Coming Out Day State-wide events you won't want to miss out on this week!
Kent State's LGBTQ center will host events all week!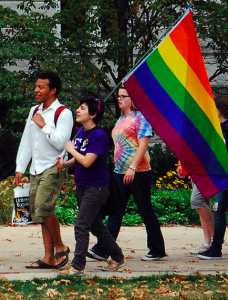 The center reports that on Tuesday, Oct. 11, it will "rally students, faculty and staff to participate in a 'Coming Out For Equality' vigil event at the Risman Plaza (on the K), at 6:30 p.m. The center has acquired more than 250 balloons for the event. Names of LGBTQ individuals and their allies who were bullied and harassed into suicide will be placed on these balloons. Each name will also be read out during the event to remember those who have been lost and to stress the importance of equity and inclusion at Kent State.  After a moment of silence and student and faculty speakers, the balloons will be released into the sky, signifying the releasing of the burden of bullying and harassment."
Check out all the other cool events Kent State's LGBTQ center is hosting to celebrate National Coming Out Week.